Janice Windle is a practising artist as well as a writer. She graduated from the Central School of Art, London, with a BA degree in Painting and Fine Art, and went on to train as a teacher in secondary schools. She taught full time until 2005, with a break of seven years in the 1980's when her daughter was born. She has continued to work on creative projects throughout her life.

Janice found inspiration to write poems when in 2005 she began to make frequent visits to Sorrento and the Amalfi Coast to paint and draw the beautiful scenery and picturesque buildings of Campania. Janice compiled two sketchbooks of illustrated short poems about Sorrento, Pompeii, Positano, Praiano and the Amalfetino coast, and in in 2013 published an illustrated book based upon them, which she called Loving the Light (available from her website, www.dempseyandwindle.co.uk)

In August 2007 she exhibited her paintings of the area in the wine-bar of the Buco di Baco restaurant in Positano and made friends among the fine painters working daily on the piazza on the beach-side.

In 2011 she and her partner Dónall Dempsey joined a group of poets performing at the Edinburgh Festival Fringe in Scotland. Recently Janice has enjoyed reading with Dónall at poetry festivals in France (Saint Clementin Biennial Bilingual Poetry Festival, 2012), Ireland (the Elbow Lane International Festival in Cork, 2013) and New Delhi, India (the Delhi International Poetry Festival, January 2014).

Janice has had poems published in various journals and anthologies and won third prize in the Segora Poetry Competition in 2013 with her poem, "Tattoos" Her sestina, "The Gardener" was one of twenty poems selected for publication by Martyn Crucefix when she entered it in the Poetry Space Competition in the same year.

Janice knows she owes a lasting debt to southern Italy, where she first drew her inspiration to write. Through her paintings and poems she expresses her love for the rugged many-layered scenery and sparkiling colours of Campania, where she has made so many warm supportive friends in the last ten years.
The coast road winds
between walls red garlanded
and wrinkled satin sea
Praiano climbs on narrow steps
up from the mountain's foot
to holy grounds.
crags above gaze down
crowned in mitres
sculpted by winter winds

On the Balcony
Twined our hearts and bodies
twined like vines
and morning glory leaves.
Fragile blue stars
peer out
Into sparkling air.
Calm and clear,
the sea washes with love
our summer shore.

The Tunnel
The Sita bus is Theseus
doing battle with Minotaurs
along the coast at Praiano
The tunnel at Praia beach
believes it is descended
from the Labyrinth of King Minos
The tunnel waits
mirror-horned coaches
blare triumph as they enter
A gecko told me this
and he is descended
from a Dragon.

The Dogs of Pompeii
Stretched on steps, heads pillowed
on concrete in the narrow blue stripe
of noon-day shade
the dogs of Pompeii smile
and dream away the centuries.
On the wall, "Cave Canem".
It's only a mosaic. The agony of
a guard dog tethered in plaster forever
is just a bad dream for these
their dusty descendants.

The Cave
Gash in the mountain's skin
lipped, crusted, spread wide
gnawed by tideless summer waves
green water kisses rock
rock shimmers a reply
dazzled by ripples
a fleet of trapped stars
in an echoing harbour

Jobs for the Boys
Caligula was driving the Sita bus today.
He swung the wheel ferociously.
Small brown face, muttering.
The pallid barbarians surging up
without valid tickets risked surly "thumbs down"
but today
Caligula was in a good mood.
Coming back from Positano,
I recognised Nero's
heavy handsome head
leaning from the bus window.
Steel wool hair, steely gaze.
Humorous wrinkles
were all that showed centuries have passed
since his portrait bust in the Naples Museum
was toppled from the palace pedestal.
Two Emperors, gainfully employed
thanks to the Sita Bus Company.
Artwork by Janice Windle from Campania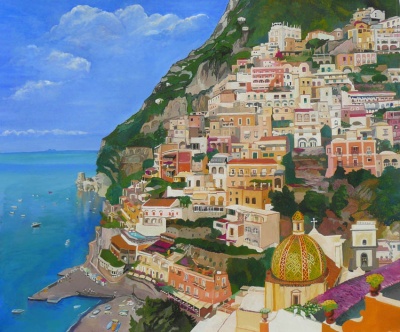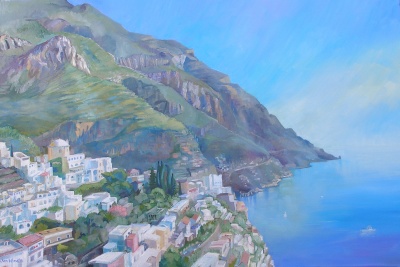 All poems & art on this post: © Janice Windle
Published with the permission of Janice Windle