Vasilis Papageorgiou (b. 1955 in Thessaloniki, lives and works in Sweden and Thessaloniki) is a writer, translator, Professor of Creative Writing and Reader in Comparative Literature at Linnaeus University, Sweden. He has published books with poetry, prose, plays and essays in Greek, Swedish and English. He has translated and co-translated many books, predominantly poetry, and mainly from Swedish to Greek, Greek to Swedish, and from English to Greek and Swedish. Examples of the authors he has translated include Eva Runefelt, John Ashbery, Tomas Tranströmer, Constantine Cavafy, and Sappho.

Please visit Vasilis Papageorgiou at: chromatachromata.com
She was walking close to the water, she found a balance between the upper and the lower part of her body, between left and right hand, between her thoughts and a enormous amount of observations, their accumulated clarity, their intimate resplendence. She entered an equally intimate and deep feeling of having gone astray in other people's ingenuity, in their delightfully intruding intentions. A city without vertical gestures she would mail about presently, an extension that whirls around itself and close to or just above an almost forgotten but never idle catharsis. As if she took off her beautiful shoes after a beautiful, long walk.

Thessaloniki vid vattnet
Hon gick utmed vattnet, hittade en balans mellan den övre och den nedre kroppen, mellan vänster och höger hand, mellan sina tankar och en enorm mängd av iakttagelser, deras ackumulerade skärpa, deras intima utstrålning. Hon kom in i en lika intim och djup känsla av att ha gått vilse i andra människors påhittighet, i deras ljuvt inkräktande avsikter. En stad utan vertikala gester skulle hon strax mejla om, en utsträckning som snurrar kring sig själv och i närheten av eller strax över en nästan bortglömd men aldrig overksam katharsis. Som att ta av sina vackra skor efter en vacker, lång promenad.

From Ingen hand orörd: Städer, Växjö University Press 2007.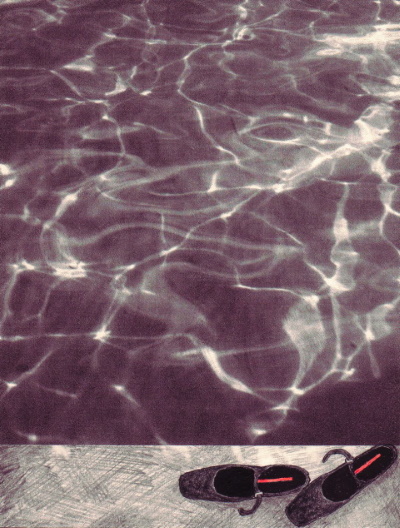 Thessaloniki by Lo Snöfall

This very airy moment
Cherry and almond trees blossom in white and pinkish colours in the fresh morning air and this moment is the hapax phaenomenon that kept waiting for us who knows how long, that now expanded itself and started hovering like a light hand, a warm touch, it smells beautifully and breathes quietly, it follows us down to the sea and would never thought of saying a word. We all want it to be so. This very airy moment. Compactly ours.

Dog monolog
Morsis
I like the way heat warms up cold bodies. The way it offers itself. It's not that the warm gets cold but that whatever is cold gets warmer. I just think so. I always did. As far as the world remains a part of the world it's fine for me. Time gets warm too. Time gets its form in the heat. And it dissolves in it as well. Where is the vision? Who is doing some thinking here? In this city? Who creates heat here? Who emanates it? Who loves the body of the city? Who lets it breathe? Just who loves the city? Really loves it with a love that sets it free?

From Ωραίες ψυχές / Orees psihes (Beautiful souls / Vackra själar), Thessaloniki: Σαιξπηρικόν / Saixpirikon, 2019.

Poetry in this post: © Vasilis Papageorgiou
Published with the permission of Vasilis Papageorgiou