Ermira Mitre Kokomani is a published bilingual poet, an essayist and a translator from Albania, living in New Jersey, USA. She has a Bachelor of Arts in English as a Second Language, from Tirana University, Albania and a Post-Baccalaureate Certificate from New York University, USA. She works for an academic library at Rutgers, The State University of New Jersey. Ermira was born and lived in the ancient city of Durres, Albania, by the Adriatic Sea, and her soul is so bonded with the depth of its blue water and its vastness that still inspires her to write poetry. Last year, she published her first book of poetry, "The Soul's Gravity" in Albanian. Ermira is working on her second book of poetry in Albanian and her first book of poetry in English. She is a member of Montclair Write Group in Montclair New Jersey, and regularly reads her poetry in Open Mic events. She also translated from Albanian into English the fiction novel "The King's Shadow" by the well-known Albanian writer, Viktor Canosinaj, published in 2018 in Amazon, and Albania. Ermira enjoys writing, reading, and travelling.
I love your playful style, Albania,
since I was a baby; still a gentle child,
plunged myself blissfully, on your gusty roads,
where my dream altered into a butterfly,
chasing my shadow toward avant-garde.
I love your prodigious Adriatic Sea coasts,
the belly laugh of love, coiling on roses,
melodious sounds, dance steps, moccasins,
the echo, the zest of the flattering dances,
the capricious sorceress of the wild tribes,
unfolding the vivacity of the artifice.
I love your rough, street cobblestones,
loaded with legendary, solo verses; as much as
I love the sound of warning sirens,
mixed with the echo of morning bells tolling,
oh, Great Bells shaking the city hall tower,
announcing our life is anchoring another hour.
I love the unusual roads, all full of noises,
bearing the heavy trotting of the hungry horses,
those rough roads, no one dreads to walk,
not even loose beggars, or street dogs.
I, even, love the death in your rumpled bed,
the reverential homage, the hymns,
the wailing poems, the pain piercing your noble soul,
as a frightening, muddy, water stream,
blackening the new petals of your spring.
I love the solemnity in the rite of death,
thus, our life makes more sense,
for after birth, life string is tied to death,
for after death, the soul transcends.
I love your unique cycle of eternity,
the firing sun, the brightness of daylight,
switching to a pitch-black night,
two intrinsic parts, and the yin-yang in the universe.

May 2016

THE TEMPLE OF STRENGTH
Dedicated to those brave mothers who
survived their children's deaths and to
those brave women who survived cancer.
No thoughts wish to disturb,
the ancient Gods of Greeks,
on the Holy Mountain of Olympus,
nor tremble their temple,
of power and magic.
Neither, do they wish to irk,
Homer's legendary couple,
Penelope and Ulysses.
Nor their memories and pains,
stagnated in their bones,
resting peacefully,
under tombstones.
As a Trojan Horse,
the rebellious thoughts,
wind as a serpent,
into the labyrinths,
wandering and stirring up
the souls' fire,
scratching the scab,
of the faded wounds.
Who can hold their breath,
on a handful of ashes,
and forever shelter
it in their chests,
and still stand up and walk bravely,
along the slopes of their lives?
Who can possibly wonder,
what a mother's shriek echoes,
to the Heaven's dome,
when her only child,
departs from her and lays
on the hands of Persephone?
Memories,
walk alive in ballads, in verses,
surviving to carve the names,
of these unknown temples,
the acropolis of a mother's
strength and courage,
to soothe the pain
and grief of losing her child.
Who is that woman,
scars shaping her breasts?
I have got to know some,
sword-dragon women, of no rest,
cutting the cancer metastasis,
as lionesses able to pirouette them,
and get rid of their clutches.
Nothing, no one,
can beat these champions,
neither the pain of losing a child,
nor the battle between life and death,
those are the grand shrines,
to be venerated
for their immense inner strength.
No thoughts want to raffle,
the ancient Gods of Greeks,
in the Holy Mountain of Olympus,
but the Gods of the sacred women,
their Acropolis,
where their soul's vital force
sleeps and awakens in life's faith.

October 2018

IF TODAY I COULD
If today,
I could die,
and leave my ashes behind,
I wish as a fire, to light and rise,
from it again, and be kind.
If today,
I could appear,
in my soul's adulation,
dispel my emptiness in the air,
cuddled in sea foamy splashes.
If today,
I could release my spirit fly,
into a tree branch, vivify
a withered leaf, and gorge
the thirsty chest of hungry forest.
If today,
I could give power to my voice,
echo beyond, the fire's thunder,
in that glorious hymn of pleasure,
pour between shivering fingers, in ether.
If today,
I could, wake up Mountain Fairies,
from eternal sleep of death,
comb their hair, with loving kisses,
brighten their heads, with shiny pearls.
If today,
I could make some regal crowns,
to enthrone those sacred women,
who in ages, as a Goddess,
lives, in wombs, they created.
If today,
I could quiet the river,
when it's flowing, harsh and heavy,
cut the waterfall at waist, in half,
on chest's armor, catch its heart.
If today,
I could surrender,
to an hour, by surprise,
knocking, fading all my dreams,
what a dream, that's not a dream,
just a thirst to waste my life.
If today,
I could be born,
and from ashes of the ashes,
rise again, as a Phoenix
in one breath, be bold and kind!!!!!

November 2019

NECROPOLIS
It's Necropolis!
It's yesterday!
It's the beginning!
Since then, turned into a colorful garden,
a flock of birds and butterflies residing in.
fluttering and sensing the vibration of courage,
cutting through the air as the gust of west wind.
And when we dig deeply,
the earth tickles us as they are still here.
for their gone forth sheer legacy,
feels so soothing and real,
when touching that peace of ground
on the ancient Dyrrhachium* family hills,
and glimpse their smiling faces thrilled,
bonded with ours as conjoint twins.
Glorifying life,
as the morning sunrise in spring.
Necropolis thus spoke yesterday,
the afterlife ancient message tuned in,
"You are today, the legacy of our zenith,"
woven in the silk pattern of tomorrow,
We lived the beginning, you'll live the infinite!

November 2016
*Dyrrhachium is the Roman name of modern Durres city in Albania,
my hometown. It was founded by Greek colonists as Epidamnos in 627 BC.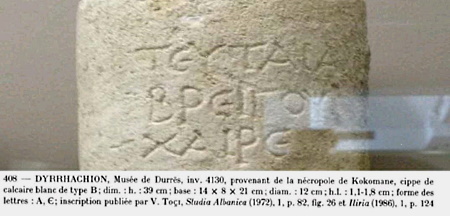 The description mentions Ermira's family name as "Necropole de Kokomane"
("Necropolis of Kokomani Hills") which refers to the "family hills" mentioned
in the poem.

Poetry in this post: © Ermira Mitre Kokomani
Image illustrating NECROPOLIS © Artan Shahini
Published with the permission of Ermira Mitre Kokomani