Heather H. Yeung is a critic, poet, and artist book maker, currently hailing from Scotland. An archive of her artists book works is held in the Scottish Poetry Library.


Archipelago – the islands of the sea; the sea which connects the islands; the sea, the sky; and on clear days that blue… – this poet hails from two such places: the archipelago of Orkney, the Hong-Kong archipelago. Different latitudes, different longitudes, different climates. But perhaps it does make sense that this poet should come at some point to the origin point of the archipelagic imaginary – the blue of the Mediterranean – remain there for quite some time, and (often) return, and (often) remember 'island-hopping' and looking across the blue sea-borders there.

In the following poems the sea is seen at times from the islands, and the islands seen at times from the sea, all of and under the same blue. The poems here are from a sequence related to a piece of work commissioned by the National Library of Scotland: to respond creatively to the diary written by the early c.19th diplomat's wife Henrietta Liston, during her travels in the Mediterranean and sojourn in the Ottoman empire. The artists book of cyanotype prints and poetry (from whence these poems) is displayed in the National Library of Scotland's exhibition 'Henrietta Liston's Travels' (10 July – 6 November 2021, Edinburgh), and an essay 'Under Different Skies', which gestures towards these poems can be read at https://digital.nls.uk/travels-of-henrietta-liston/long-reads/yeung.html.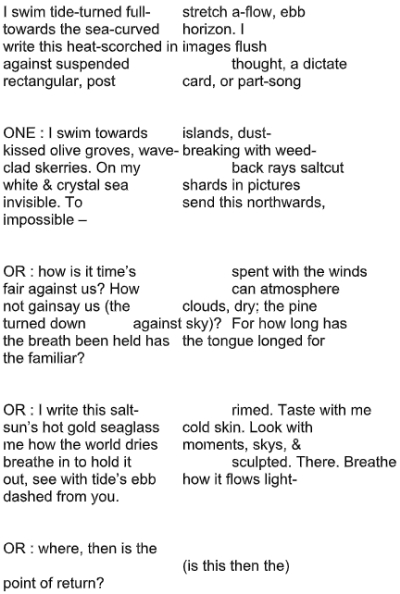 HYMETTUS
(we are now eating honey from Athens,
the produce of Mount Hymettus – but
alas no butter)
(Pera, 1813 : 2015 : 2020)
FABLE
The undergrowth of the woods, and the
covering of uncultivated fields, consist of the
Cistus (both red and white) of Hypericums of
Tamerisk, with a variety of heaths.
(Belgrad Ormanı 1812 : 2016 : 2020)


For other contributions by Heather H. Yeung, please follow the link below:

Poetry in this post: © Heather H. Yeung
Photo by Ingrid Apaydin
Published with the permission of Heather H. Yeung