Peter Jeffreys is an associate professor of English at Suffolk University, Boston, MA. He has written and edited a number of books on the Modern Greek poet C.P. Cavafy: Eastern Questions: Hellenism and Orientalism in the Writings of E. M. Forster and C. P. Cavafy (2005); The Forster-Cavafy Letters: Friends at a Slight Angle (2009); C.P. Cavafy: Selected Prose Works (2010); Reframing Decadence: C.P. Cavafy's Imaginary Portraits (2015). His occasional ventures into the realm of creative writing include the following poems: "Seraph" (Paradise in Limbo Literary Arts Magazine, 2016); "Arrangement in Black and Gray: After Whistler" (Ergon: Greek American Transnational Arts and Letters, Fall 2017) and "Greek Necropolis" (C.P. Cavafy Forum, University of Michigan, Fall 2018).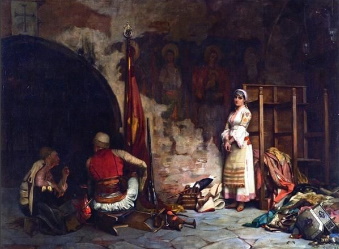 Turkish Plunder/Τουρκικό Λάφυρο (1885) by Théodore Ralli
Maiden sister of a mountain fighter
spinster of Solos
overshadowed by her brother's fame
victim of his valor.
Life in the family shadows
rural farm chores
deadening domesticity
the imperious wives of siblings.
One solace only
the nearby chapel
Saint George's cool
domed shelter.
Filling vigil lamps with olive oil
trimming beeswax candles
polishing church silver—
sterling wedding crowns
she'll never don—
(these days the local palikars
romance their rifles).
Ibrahim Pasha of Egypt
sent to quell rebellion
settling the score
with Solos' chieftain.
Full of fury
fields laid waste
dwellings burnt—
Saint George's church despoiled
the Virgin Mary's icon cheek
slashed by the Satrap's saber.
Accosted by the ravager of Morea
a living virgin ravished.
Saint George, her mounted
red-crossed soldier-saint—
patron of her prayers—
now rears himself before her
demonically transformed
a turbaned fiend.
Abducted by her nightmare knight
whisked off to Alexandria's slave bazaar—
a harem's hell—
sharing Cleopatra's vanquished fate.
Hapless, asp-less,
her only venom
shame.
Ransomed years later   
the sum exorbitant.  
A price far worse—  
her name erased    
forgotten by her clan—  
disgraced
the memory of infamy
repressed.    
Peter Jeffreys © 2020
**In May of 1826, Ibrahim (son of Muhammad Ali, the Ottoman Governor of Egypt), who had been enlisted by the Ottoman Sultan to quell the Greek rebellion, undertook a campaign to suppress the revolution in the Peloponnese (Morea). Among his most brutal tactics was the abduction of women and children in the mountain villages of Achaia, many of whom were sent to slave bazaars in Egypt and North Africa. The story relayed in the poem is a true account of the plight of the sister of Nikolaos Soliotis, one of the prominent freedom fighters of the Greek insurrection.

For other contributions by Peter Jeffreys, please follow the links below:

Poetry in this post: © Peter Jeffreys
Published with the permission of Peter Jeffreys